Dr. Denina Simmons – Assistant Professor and Canada Research Chair (Tier II)
Denina (Nina) joined the Faculty of Science at Ontario Tech University in July 2018, where she is the Principal Investigator of the Aquatic Omics Lab, and is also responsible for the Aquatic Facility, and the BioMETRIC (Biomolecular Excellence, Training, Research, & Innovation Centre) Facility.
Nina received her Undergraduate degree from Ryerson University and then completed her Master's and Doctoral degrees at Trent University. Nina completed two consecutive postdoctoral fellowships at Environment Canada and after that, she had two consecutive contracts working on 'Omics projects with the Ontario Ministry of Environment, Conservation, and Parks.
Raina Hubley, 4th-year Thesis Student & Aquatic Facility Assistant
Raina helps to take care of the fish in the Aquatic Facility. Raina's research will examine the effects of hypoxia and elevated water temperatures on Fathead minnow behaviour, proteomics, and metabolomics. Through this research, Raina hopes to better understand the impact of environmental changes on the health of fathead minnows; a sentinel (indicator) species.
 In her spare time, Raina prefers to be outdoors hiking, birding, and camping. She also likes to watch movies, create music, and spend time with her family and friends.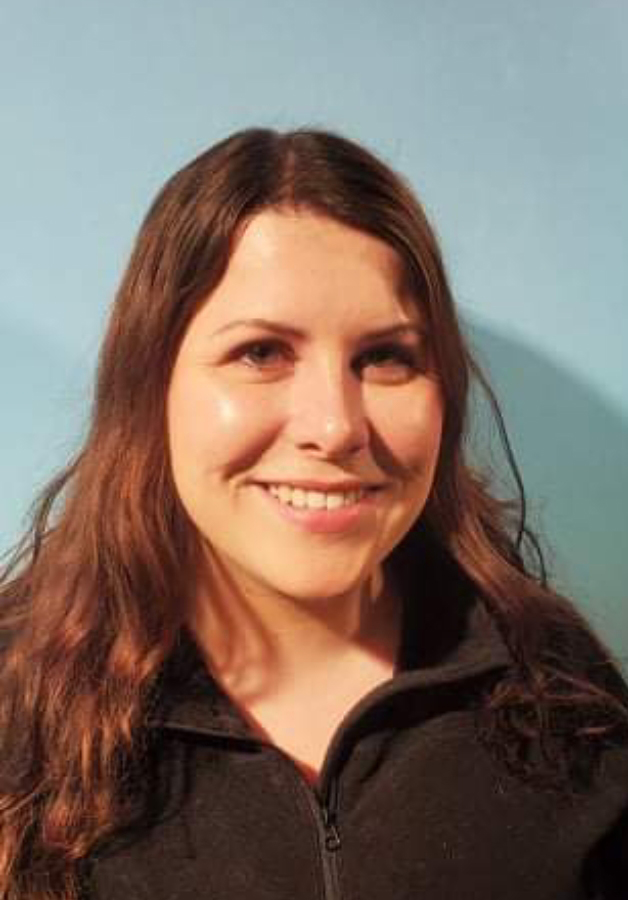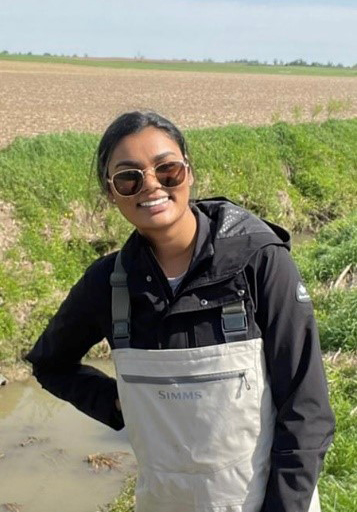 Almira Khan – B.Sc., Ontario Tech University
Almira is a graduate student in the Applied Biosciences (M.Sc.) program investigating the effects of Per- and Poly-fluoroalkyl Substances (PFAS) on freshwater invertebrates specifically, snails! Almira is studying PFAS burden and effects using non-targeted proteomics and metabolomics.
Investigating lesser-studied, ecologically relevant aquatic organisms allows for a better understanding of PFAS contamination in water bodies, to predict the adverse effects of PFAS on pulmonate snails, and potentially prevent increased PFAS pollution and environmental impacts.
Almira is completing her research at the Environment and Climate Change Canada in Burlington, ON, working with Dr. Ève Gilroy. During her leisure time, Almira enjoys going for walks, baking, and listening to music.
Mohammed Faiz Chauhan – B.Sc., Ontario Tech University
Faiz is a graduate student in the Applied Biosciences (M.Sc.) program at Ontario Tech and is currently working on finding optimal methods of protein and metabolite extraction from human saliva. Human saliva is a biofluid that contains a diverse collection of metabolites and proteins which can act as biomarkers and be used for potential diagnostic purposes in the future.

Mountain biking and hiking are two of Faiz's favourite pastimes. Since he was a young child, science had captivated his interest, and the joy he had from comprehending the physical world inspired him to pursue a career in research.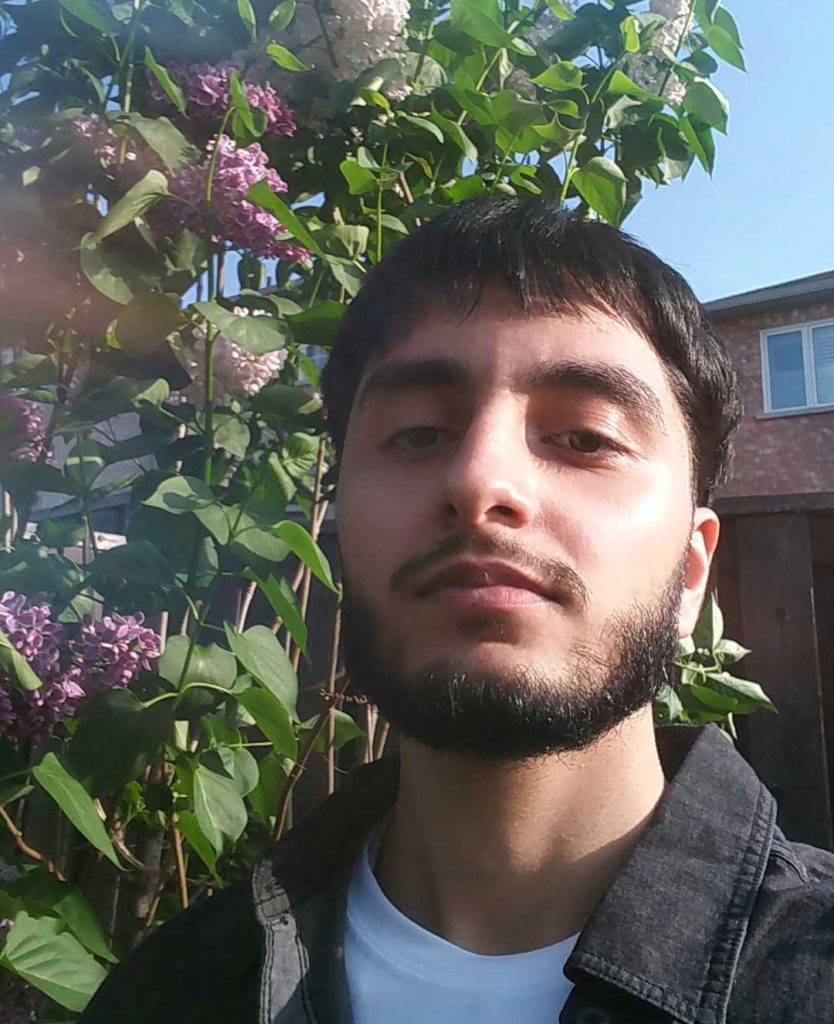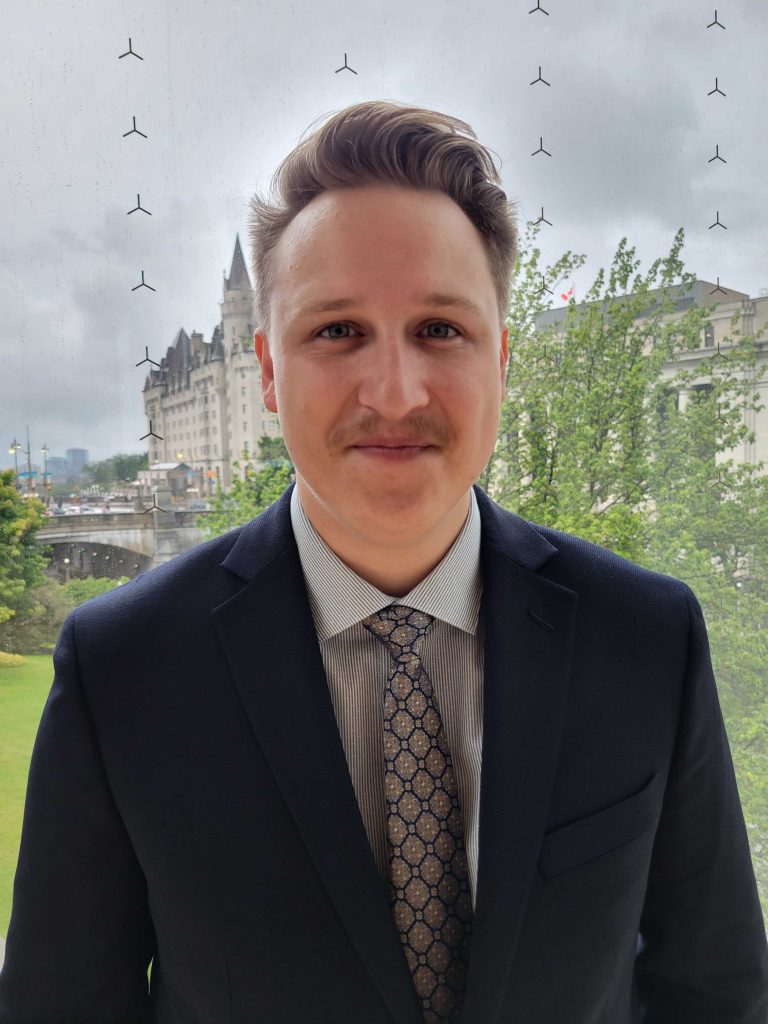 Tyler Dow – B.Sc.
Tyler is a graduate student in the Applied Biosciences (M.Sc.) Program at Ontario Tech University. His research explores the utility of entomotoxicology and wastewater-based epidemiology (WBE) in measuring opioids and associated metabolites. Specifically, he will be working to develop reliable methods to detect and quantify a selection of natural, semisynthetic, and fully synthetic opioids and their major metabolites in insect larvae and municipal wastewater. Tyler hopes this research will validate approaches for opioid detection in these environmental samples to better inform public health and law enforcement agencies.
Tyler's research interests focus on identifying tools and technologies to better extract and quantify current and emerging drugs and their metabolites within collected toxicological samples. In his spare time, Tyler enjoys cooking, canoeing, listening to music, and watching scary movies.
Simon Pollard – H.BSc. Biology, McMaster University
Simon is a graduate student in Applied Biosciences (Ph.D.) at Ontario Tech University and is currently investigating the effects of Per & Poly-fluoroalkyl substances (PFAS), a large class of synthetic compounds that have been in wide use in industry and consumer products for the past 50 years. Simon is especially interested in the effects of PFAS on lipid & carbohydrate metabolism in fish and how seasonal dietary changes may affect toxicity.
When he is not doing research, some of Simon's favorite activities are fishing, camping, or anything else that involves getting out in nature. As a young child, Simon always had a great appreciation for the natural world and this is one of the factors that made him interested in aquatic toxicology.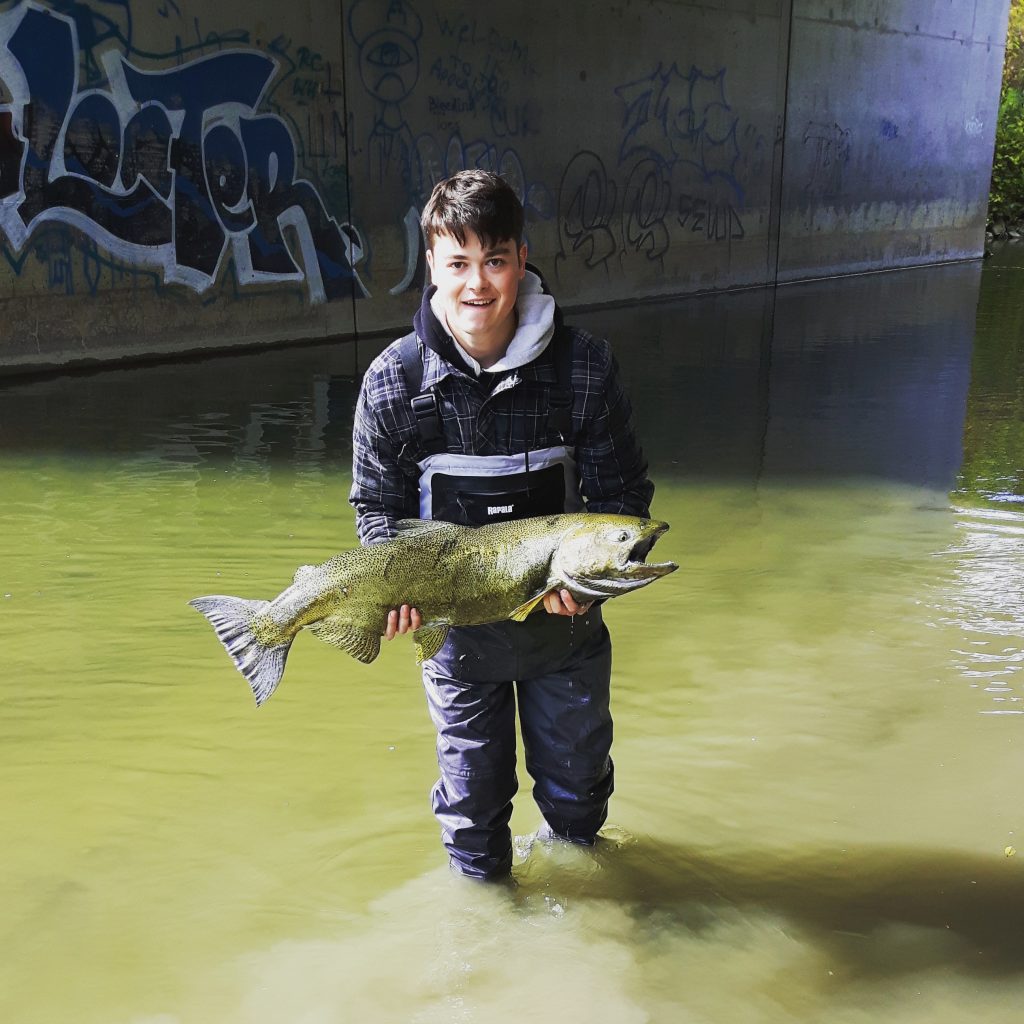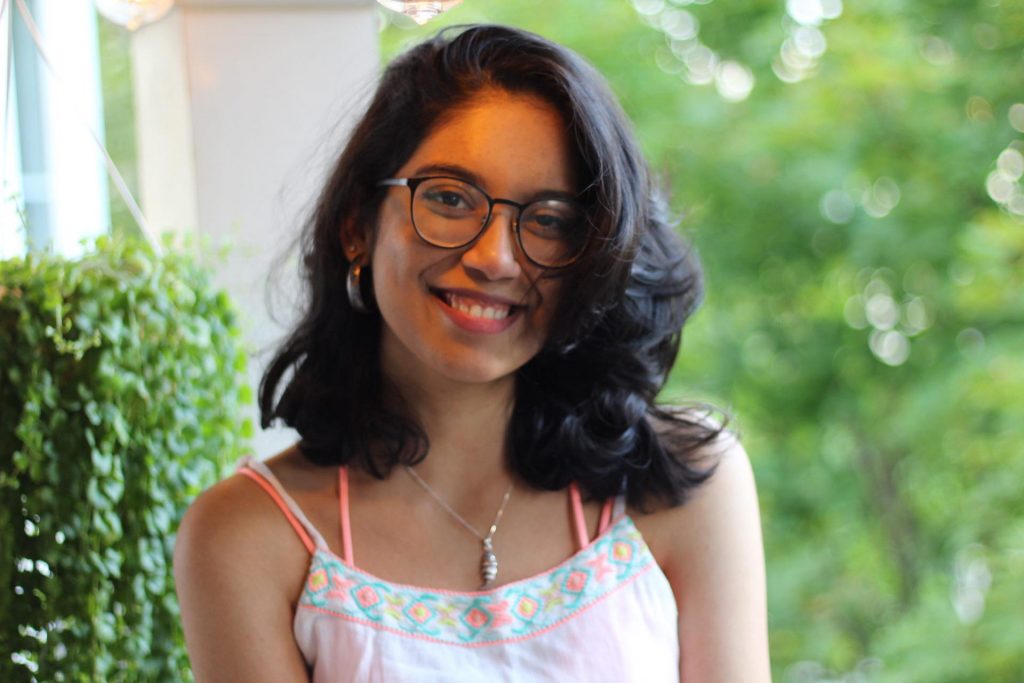 Urvi Pajankar – M.Sc. Applied Biosciences, Ontario Tech University & H.BSc. Biology, McMaster University
Urvi is a graduate from the Applied Biosciences (M.Sc.) Program. She examined the effects of nickel in fish, an understudied but widely used metal. Urvi studied how environmentally relevant concentrations of waterborne nickel alter sex-specific responses in the blood plasma and skin mucus proteome of the fish. Both these biofluids are unexplored and contain an array of proteins capable of indicating the status of fish health, which can be applied in future biomonitoring programs.
Urvi was part of the executive team of the OTT-WIC (Ontario Tech -Trent Working for inclusivity in Chemistry) as the VP internal. When she isn't reading scientific papers, she enjoys reading fiction, listening to music and podcasts, painting and, cooking. She was born and brought up in Muscat, Oman, where she first fell in love with nature, beaches and, water.
Nancy Tannouri – M.Sc. Applied Biosciences, Ontario Tech University
Nancy is a graduate of Applied Biosciences (M.Sc) at Ontario Tech University. Her thesis work expanded current knowledge on blood plasma function in fish by exploring circulating blood plasma proteins, and potentially, their origin. Specifically, she cross-compared protein representation in blood plasma versus various organ tissues using a non-targeted proteomics approach. Her past research experience includes analyzing complex data sets pertaining to the effects of hexavalent chromium on white sucker and lake trout.
Nancy is now working on the study of proteins and RNA in wastewater to understand the prevalence of human diseases and viral infection in the new and exciting field of wastewater-based epidemiology (WBE).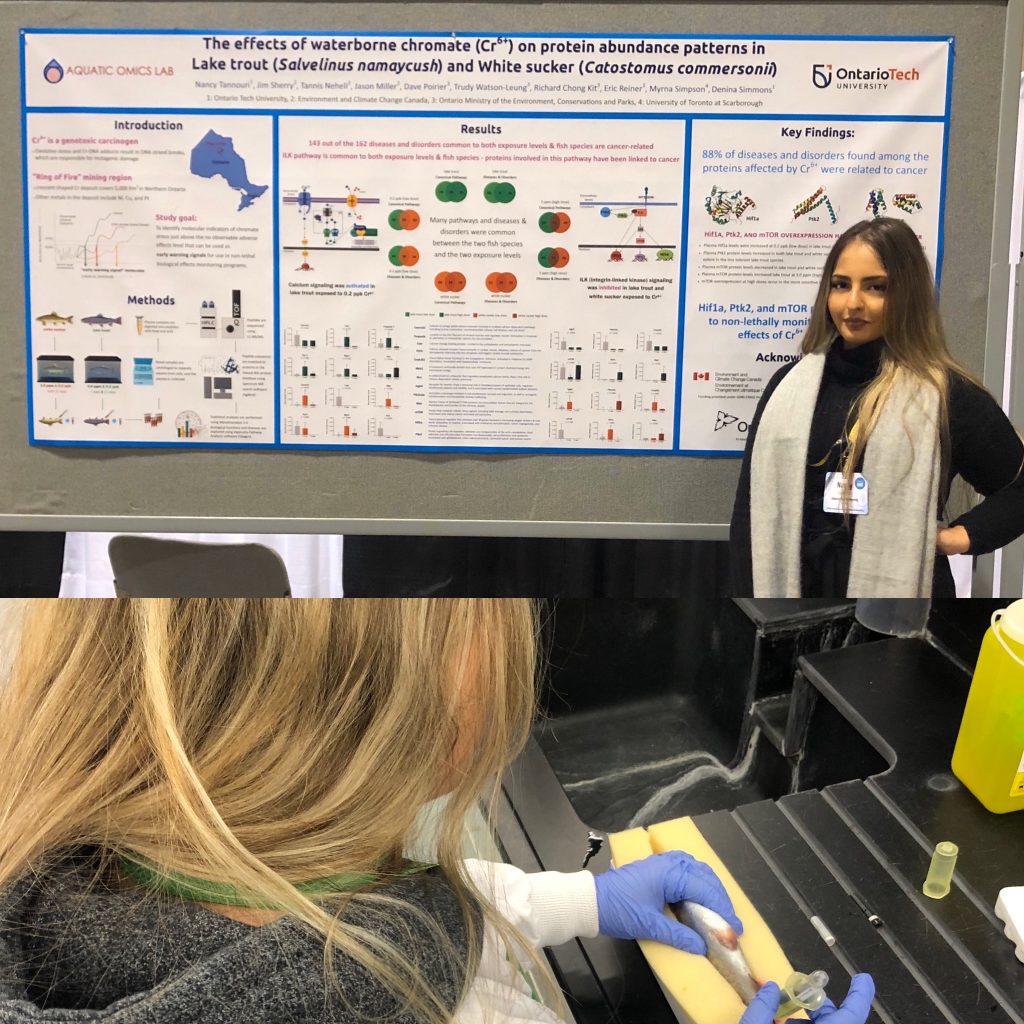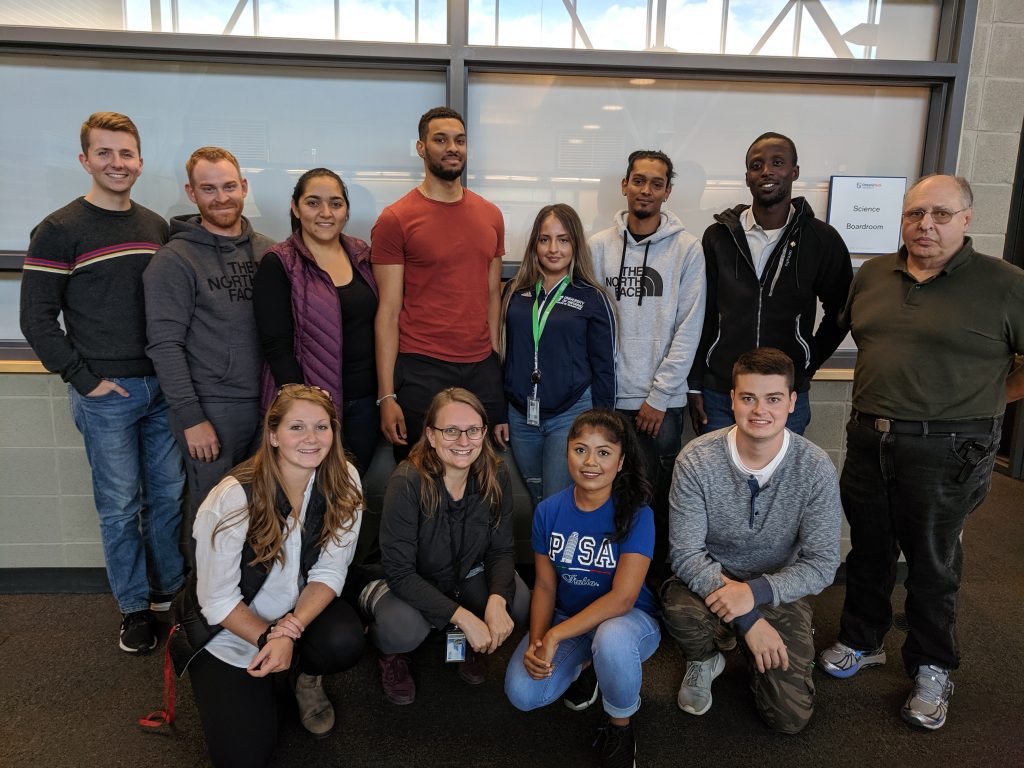 2019-2020 Lab Group
From left to right: (top row) David McNabney, Dr. Jordan Anderson, Dr. Camila Athanasio, Chase Tudor, Nancy Tannouri, Dylan Sayroo, Adesina Sosanwo, John Guchardi (bottom row) Tina Flaherty, Dr. Denina Simmons, Shreya Jain, Simon Pollard.

Summer 2019 Lab Group
From left to right: John Guchardi, Dr. Jordan Anderson, Christine Flaherty, Dr. Simmons, Simon Pollard, Cashmeira-Dove Tyson, Sushmitha Srinivasan, Dr. Camila Athanasio.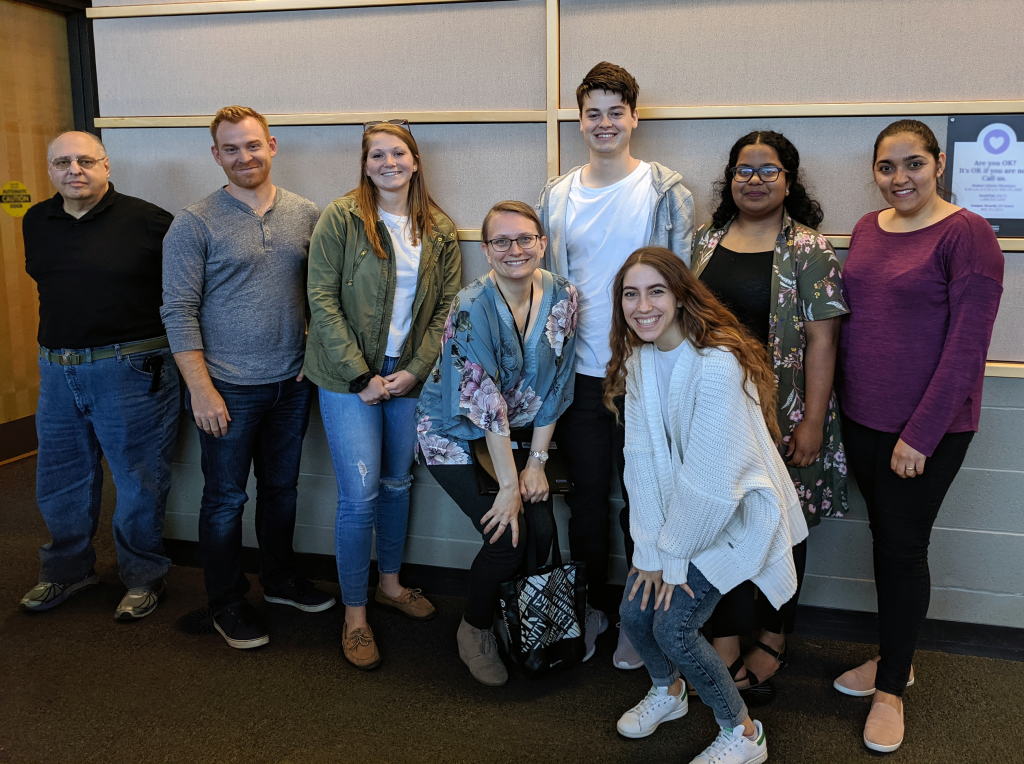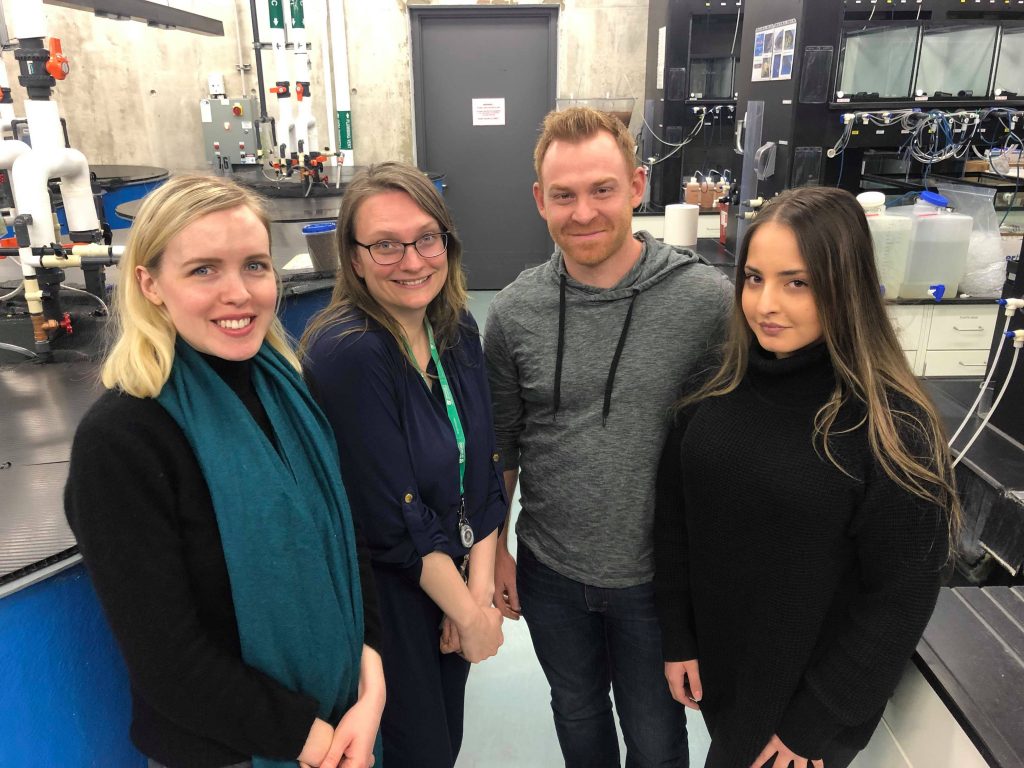 2018-2019 Lab Group
From left to right: Jessica Leger, Dr. Simmons, Jordan Anderson, Nancy Tannouri.